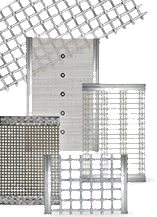 Tricircle controls quality and service by weaving wire cloth used for end-tensioned, side-tensioned and cylindrical screens. The woven wire cloth screens can fit Midwestern's rectangular screening equipment as well as other makes and models. Our commitment to excellence extends to our woven wire screens, perforated plate as well as the grommet sifter screens.

Available in: carbon, oil-tempered and stainless steel.
Stainless Steels: T-304, T-316 and T-430
Call for Rush Orders!